(reimaginED) – More than 173,000 students in Florida attend private religious schools using one of the state's education choice scholarships, representing nearly 70% of all students receiving scholarships.
Florida's two income-based scholarship programs, the Florida Tax Credit Scholarship (FTC) and Family Empower Scholarship for Educational Opportunities (FES-EO), now enroll more than 183,000 students through Step Up For Students (which hosts reimaginED).
The Family Empowerment Scholarship for Students with Unique Abilities (FES-UA) serves another 65,890 students, with more than 37,000 enrolled in private schools.
Income-based scholarships average between $7,300 and $7,800, depending on grade and county of residents, and help parents afford one of 2,077 participating private schools. Scholarships for students with special needs average $10,047.
Of the participating private schools accepting income-based scholarships, 1,271 (61% of all schools) identified as a religious school (a school's religious status is self-reported).  About 151,000 income-based scholarship students (82.5%) are attending religious schools.
Catholics comprise the largest religious group with 34,912 students and 204 schools, while non-denominational schools make up the largest subgroup. The "other" category represents religious affiliations not represented in the major subgroups.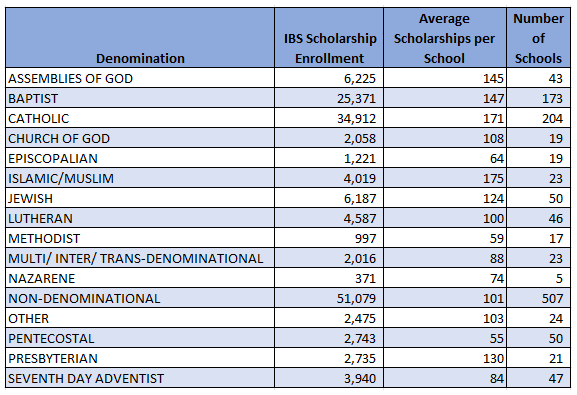 Religious schools enrolled 7,589 military dependents, 5,002 dependents of law enforcement officers, 3,669 students who were adopted, 447 students who were in the foster care system, and 554 in "out of home care."
Another 2,547 students qualified for the FES-EO program because they had a sibling enrolled in FES-UA.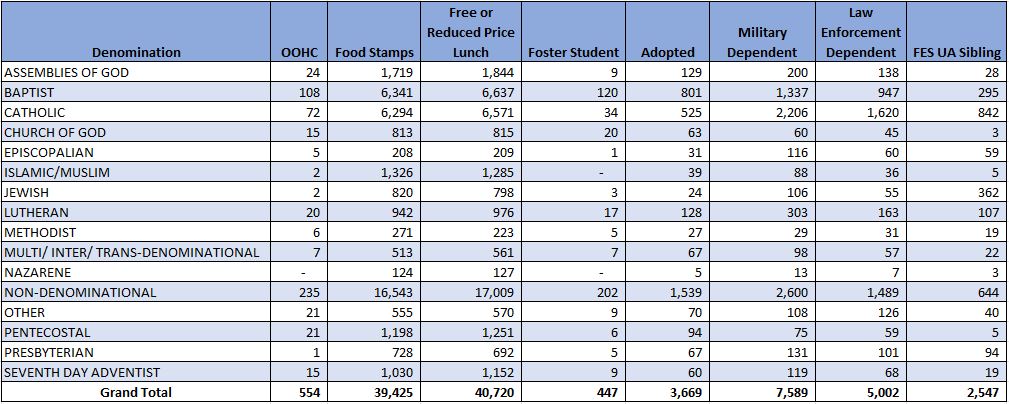 Two points to keep in mind: Students may belong to more than one eligibility category; and the income-based scholarship programs allow families to immediately qualify if they are eligible for food stamps or other government based low-income assistance.
More than 22,000 of the 37,603 students attending private schools on the FES-UA scholarship attended one of 1,285 participating religious schools.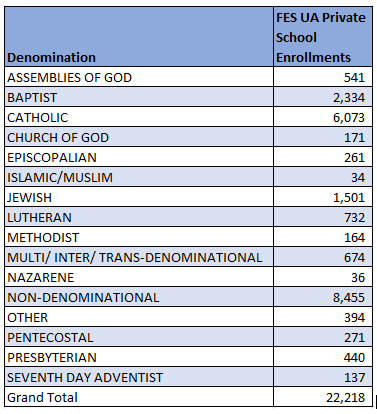 ---
This article originally appeared at reimaginED.