'A compromise between right and wrong is wrong, always': Riley Gaines reveals how faith helped her stand against transgender ideology
Before 2022, Riley Gaines was known as a very good collegiate swimmer. Now she's the face of fairness in women's sports around the world and a voice of reason against radical gender…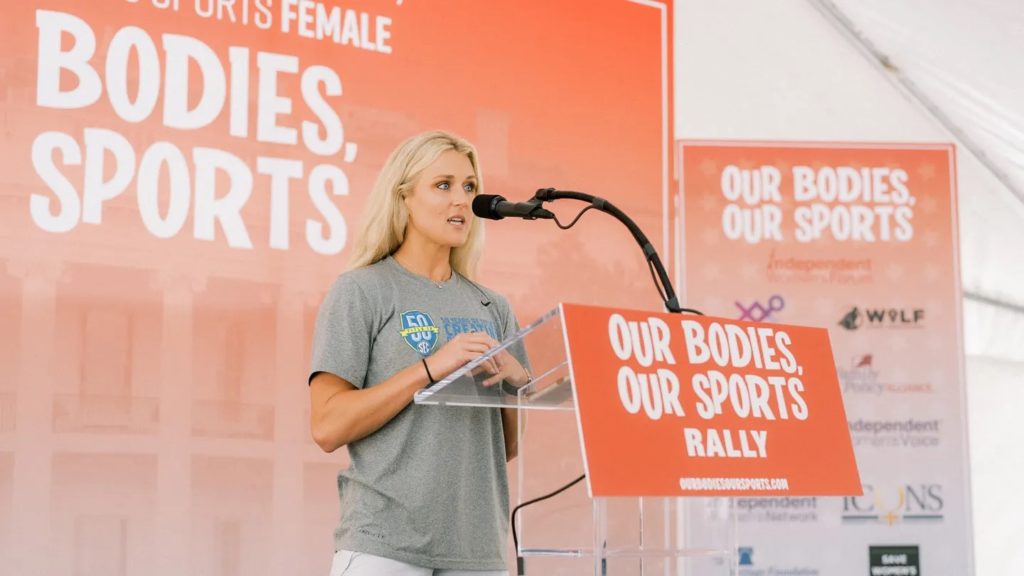 Before 2022, Riley Gaines was known as a very good collegiate swimmer. Now she's the face of fairness in women's sports around the world and a voice of reason against radical gender ideology.
In an interview with Chris and Christine Stigall, co-hosts of the Making the Leap podcast, Gaines described what motivated her to speak out and what gives her courage despite the intense backlash.
"For me, playing a sport was about winning," she said. "Had I known – looked into the future – and seen that I'd be competing against men, I would not have played my sport."
Gaines recalled tying biological male Lia Thomas at the 2022 NCAA Women's Championships and how officials insisted on giving Thomas the trophy instead of her.
"It was until this official reduced everything we had worked our entire lives for down to photo-op to validate the feelings and the identity of a male at the expense of our own, that's when I was done waiting for someone else," Gaines told the Stigalls.
"I thought someone else would stand up for us," she continued. "I thought someone who was supposed to be protecting us would protect us. But then it hit me. How in the world could we expect someone to protect us if we weren't even willing to protect ourselves? And that's when I decided I would be taking a stand."
Since then, Gaines has received both resounding praise and harsh censure – including being attacked by trans activists at San Francisco State University.
"I still don't really feel prepared for what I [am] doing," Gaines says, "but I realized if God calls us, He equips us. He doesn't call the equipped; He equips the called."
Now that she's a public figure, Gaines receives countless messages from parents and girls dealing with the same problems she faced. She thinks it's time for women to put their foot down.
"We need to see a boycott. I hate to say it, because when I was faced with this, I didn't choose to take that route. I still competed," Gaines said. "[But] that's the quickest and most effective way to say enough is enough. We are saying no."
Gaines' faith also plays a central role in her advocacy.
"It is loving to say the truth. To lie or deceive or affirm delusions or manipulate, who does that sound like? It sounds like God's opposition and that's what we're seeing again happen all across this country in academia. We're seeing it in the media. We're seeing it in corporate America," she explained.
"A compromise between right and wrong is wrong, always," she added.
The Stigalls asked Gaines what her advice would be to young adults in the current climate, and she encouraged them not to be idle or afraid.
"You can't wait until you're directly impacted to take a stand. That's how we got here. And if we all did that, it would be too late," Gaines said. "I think the tide is turning because courage begets courage, and there is strength in numbers.
"As more people are emboldened and inspired to stand for the truth, reality and fairness – and really this argument based around being pro-woman, pro-children, pro-parental rights – more and more people will follow suit."
The Making the Leap podcast is produced by The Herzog Foundation, which also publishes The Lion.